In Part 1 of this article we focussed on approaching an automotive sales career opportunity with the right attitude and framework to enjoy success in the fast paced increasingly competitive, modern and complex environment.
We touched on the deal making process and how it has evolved with rapid technological advancements in products, on demand consumer access to information, and the need for more professionalism within dealerships. A process aimed at delivering a better sales and service experience while ultimately leading to a more successful sale career.
Your sales success will require fundamental practices aimed at personal development, building and growing a client base, and a continuous commitment to working with an action plan.
If you choose sales as a career, at a minimum you will need to practise the following seven principles to achieve success;
SEVEN STEPS TO SALES SUCCESS
First, choose a product or service you love and appreciate. It's hard to sell anything that you don't believe in because that emotion can resonate with potential clients and may often cost you deals. If you choose a career in auto sales, choose a brand with a proven track record that you appreciate and you identify with. That positive confident energy will better engage your potential client's, building rapport and trust while progressing towards a potential sale. Plus, it's simply more fun to present a product that you can back up with confidence.
Second, you must understand and practice preparation—for yourself and your workday. In today's marketplace, it's critical that you make a positive first impression, starting with your personal appearance. This is even before you greet a prospect. Starting off on the right foot comes down to a very basic, but essential and disciplined approach of having self-confidence and being motivated. Your potential client will size you up in a matter of seconds if you lack these attributes. Research shows that in less than ten seconds of you greeting someone new in a professional role, they have already formed an opinion of you. You really do have only one opportunity to make that great first impression, so it's crucial that you put your best foot forward. http://www.forbes.com/sites/carolkinseygoman/2011/02/13/seven-seconds-to-make-a-first-impression/#3e93175c645a For example, you should never greet a client when you smell like a smokestack immediately after having a cigarette or have doused your­self with too much perfume or cologne. Grooming and preparing yourself physically is the first significant part of getting ready for your workday and boosting your self-confidence out of the gate, while mentally preparing for your workday should include reviewing and organizing goals, prioritizing tasks, appointments and checklists.
Thirdly, you must have goals. Goal setting forms the basis from which to plan for and accomplish ultimate success. Those goals must be realistic, actionable and measurable if you are to have a hope of realizing them. For example, you can express your goals in terms of the income, volume or sales goals you eventually want to achieve, and then break them down into monthly and daily targets or assignments.

For every workday you should have an action plan to guide you through the day toward your goals.How many calls and emails will you make and send? Who will you con­tact today or follow-up with tomorrow? What will your strategy be when you call and email these potential clients? What's your message or method to get the appointment and even­tually the sale? The message or method must include the fundamental reason for the email or call or you're wasting your time and your potential client's time due to unpreparedness. This may lead to not being able to contact them again, especially with today's strict anti-spam legislation—and, therefore, not been able to meet your larger sales goals.Everything you do every single workday is an op­portunity to build incrementally towards your goals. It's essential to have objectives to hit, and an actionable plan to get you there each and every day.
Fourth, you must invest in yourself. This doesn't mean getting into debt and buying the most expensive suits or tools. To invest in yourself means taking time to learn about your field of work and what steps you can take to be better educated and prepared. Invest in proper attire to look as professional as you can afford, and seek out motivational tools such as CDs, books, publications and mo­tivational videos on YouTube that are relevant to your situation. Feeding your mind constantly will provide knowledge and greater confidence when you meet new customers. Remember, clients are reading and researching before they come in to see you. Be prepared!http://www.lifecompassblog.com/warren-buffetts-investment-advice-invest-in-yourself/Although much of this material is free and readily available most of my colleagues have never picked up a motivational book or CD or tried to educate themselves, which is why they remain average at their jobs instead of excelling in a career.

Whether you make your sales opportunity a career or a job is direct­ly linked to how much time and effort you invest in yourself to learn more about what it takes to continuous­ly improve and stay ahead of the game. Warren Buffett advises…Potential exceeds realization for many people…The best asset is your own self. You can become to an enormous degree the person you want to be…Source: lifecompassblog.com

Fifth is being obsessed with your career. Probably the most consistent positive attribute I've observed in the most successful salespeople I've met in the past twenty-six years is that they love what they do. In fact they're obsessed with their careers. They love meeting new people every day and love the thrill of helping their clients find solutions and making deals. Liking your job may provide you with a modest living, but being excited about it and fully engaged can make all the difference between mediocrity and ultimate success. Success is contagious and clients like dealing with people who are successful. More than a few times, I've had clients buy just because of the exercise and thrill of making a deal, although they did not need or want the car or advertising I was selling. They bought because I came across as enjoying what I was doing and they felt engaged in the process of making a deal.A successful salesperson is confident, prepared, motivated, organized and possesses a great attitude. You can tell just by look­ing at them.
Sixth, and probably the most important of all, is attitude. I bet you've heard that before. Your attitude will dic­tate your ultimate level of success. With any job, big or small, with any client, with any relationship, with any co-worker or superior, having the right attitude makes all the difference in the world. A sales­person with a positive attitude is open to (and adapts to) change, and accepts constructive criticism in order to improve in their role. Clients appreciate a positive atti­tude; in fact, it helps right away to establish trust.
The seventh step is practicing daily personal discipline and staying focused and motivated. Discipline can make the difference each day, each week and each month be­tween great successes and average or poor results. This starts from when you wake up each morning before going off to work. Your everyday rituals can put you in the state of mind necessary for a laser like focussed working day. For example, your workday should always start by eating right. A healthy diet keeps the mind focused throughout the day as you deal with each client and the potential challenges you'll face.
Remember, for the most part you're using your brain in your work, and you can get very tired in doing so all day. You need to have a sharp mind, enhanced focus and concentration, especially when listening to clients' needs, crunching numbers and negotiating. Everything from a proper diet to being mindful and focused on actively listening to your clients will help you to stay alert, attentive and energized, no matter how crazy your workday gets.
I believe that great sales professionals are made, not born, so take time to learn what it takes to train yourself for ultimate success every day.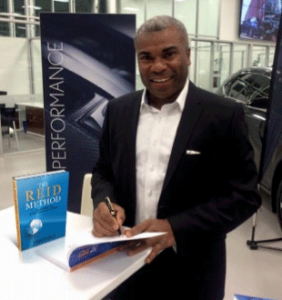 EVEROLD REID is a Lease Renewal Advisor at Lexus of Oakville with over 26 years' experience working in retail automotive industry, advertising and property marketing initiatives across North America. Throughout
his career, he developed a set of proven best practices that propelled him to become a consistent top performer in fast-changing and competitive markets.

https://ca.linkedin.com/in/everoldreid
https://twitter.com/TheReidMethod
https://www.facebook.com/thereidmethod
Recent Posts: