Top sales performers or super achievers are self-motivated, trendsetters and natural leaders. They don't wait to be told what to do or asked to set goals. They lead by example, which is why they're easily spotted, by their peers, man­agers and potential clients. Top sales performers are always busy building and doing business, which can ultimately drive them to more success and income even more than their superiors.
During my career of 26 years in sales I've tried multiple strategies and tactics to sell different products and services across hundreds of markets throughout North America and parts of the Caribbean.
In my newly published book The Reid Method, (A Blueprint for Achieving Sales Mastery) www.thereidmethod.com/products/, I outline 20 of the best practices of top sales performers that I've gathered and experienced throughout my career. In Part 1 of this feature, we will cover 10 of these strategies to help get you on the road to being a top sales performer.
Set stretch goals and targets: Top performers are results driven and often create their own set of rules to play by. They attain higher results by setting bigger goals and targets, formulating their own individual sales plan and stra­tegically managing their results accordingly.
Plan and monitor objectives: Top performers always want to know where they stand so they pay attention to the details to ensure they stay on track to meet or exceed their goals. They make strategic adjustments to keep pace at all times and often break down the numbers into yearly, monthly, weekly and daily objectives.
Define the purpose of the call or meeting: Before you pick up the phone or try to engage a client face to face you must have a plan for the interaction. Outline your objectives before engaging with clients by asking questions such as:

Are you calling to offer more value or to inform about a change or improvement in the product or service?
Is there a time-sensitive incentive now available that improves the client's situation and may increase your chance of closing the deal?
Are you calling to schedule an appointment or meeting? And what is the desired outcome of that meeting?

Be a good listener: Top performers listen attentively to their clients so they can offer the best solutions and strategies to fulfill the client's needs. You're better off listening your way into making a deal rather than talking your way out of a deal altogether. For more insight on the benefits vital to your success in business check out:
http://www.inc.com/dave-kerpen/15-quotes-to-inspire-you-to-become-a-better-listener.html
Ask high-value questions: Asking high-value, probing questions is a great way to uncover clients' core issues. Consider simple probing questions like these to get your potential clients laying out all their priorities on the table:

What research have you done online and what are the main criteria that must be satisfied?
What concerns do you have, if any, about moving forward?
Are you aware of all the additional benefits of doing busi­ness with us?

Clarify the issues: Clarifying what the potential client is telling you shows him or her that you've been listening all along, and brings a sense of comfort that you're both on the same page.
Wait to present: Top performers wait to present after mak­ing sure they understand the key needs and concerns. No sense elaborating on irrelevant points. Listen first, clarify and then present to address key concerns.
Recap the issues and adapt to the situation: Recap the important issues and con­cerns before making the actual presentation. You may need to modify or adapt as you go, due to what you discover about the customer's changing priorities or situation. This is particularly true in a long sales cycle that might involve multiple calls and meetings or product or service reviews.
Position yourself and product against the competition: Probe what other products or services the potential customer has been comparing. This feedback allows you to position yourself and your product's features and advantages accordingly. In short you're better able to position your value proposition against the completion.
Focus on the prospect: Don't be distracted by cell phones, other conversations, noises or lack of preparation. Focus only on what matters to the client and offer solutions that show them you're giving them the attention they deserve. This will be your ultimate value advantage.
Stay tuned for Part 2 of the top performers best practices list coming soon in the Sales Mastery blog series. Sign up and get the Sales Mastery Blog Series of modern strategies, tactics and tools to become a top super achiever in sales today!
http://www.thereidmethod.com/blog/
EVEROLD REID is a Lease Renewal Advisor at Lexus of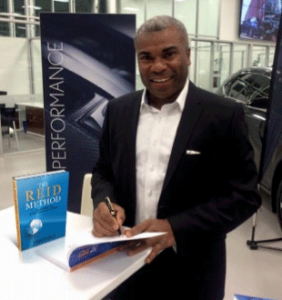 Oakville with over 26 years' experience working in retail automotive industry, advertising and real estate marketing initiatives across North America. Throughout
his career, he developed a set of proven best practices that propelled him to become a consistent top performer in fast-changing and competitive markets.
www.facebook.com/thereidmethod/
ca.linkedin.com/in/everoldreid
Subscribe to the Sales Mastery Blog Series and access more recent posts:
We Support:
www.gtaprep.com
www.mpcf.ca
www.kerrstreet.net

Proud member of the Oakville chamber of Commerce. www.oakvillechamber.com